Dongguan Hillview Golf Club - Open Course
東莞峰景高爾夫球會、AB場
Course Data

| | |
| --- | --- |
| Location | Guandong Province, China |
| Yardage | 6765 yards Par 72 |
| Course Rating | 71.3 |
| Playing Date | 31 Jan. 2004 |
| Designer | Jim Engh |
| Opened | 1998 |
| Caddy | Yes |
| Golf Cart | Yes (Compulsory) |

Rating

| | | |
| --- | --- | --- |
| Overall Rating | 3.85 | |

| | | |
| --- | --- | --- |
| Course Layout | 4 | |
| Difficulty Level | 3 | |
| Greens Conditions | 4 | |
| Fairways Conditions | 4 | |
| Landscaping & Views | 4 | |
| | | |
| --- | --- | --- |
| | |   |
| |   | The club combines 36-hole championship golf courses, this Open Course and Master Course, which are set in a beautiful valley. The course is rolling and the hollows are invariably filled with ponds and lakes. It features a couple of split fairways, and massive and deep bunkers, most of which are 2 to 3 meters (6 to 10 ft) deep, are scattered around the course. You can enjoy figuring out the your own best route to attack the flag while avoiding the deep bunkers. However, it could be a bit difficult for a beginner who is not a good bunker player. The back 9, B Course, has great views and is fun to play. |
---
---
A par 3 over water. The green is not deep but is wide and the bunker in front of it is in play.
A very beautiful par 4 with a chance for an Eagle. This short par 4 is dogleg to the right bordering a pond. If you aim at the green directly from the tee, an accurate 280 yards tee is required, carrying 230 yards over water. But in fact the tee box is raised and a tailwind will help to shorten the distance to the green into around 260. The fairway path in front of the green is extremely narrow and bunkers 2-3 meters (6-10 feet) deep guard the path, which makes it difficult to get a Birdie, let alone an Eagle. Another way of attacking the flag is to hit the left fairway around 200 yards out and to count on pulling off a short approach shot to the green, which could be the wiser choice.
A par 5 whose left fairway borders a lake. The fairway is very tight, so it is difficult.
A relatively short but charming par 4. A few trees on the left side of the fairway are in play. The key to success on this hole depends on conquering the trees.
The tee-shot is not difficult but the second & third shots are quite tough. A lake comes into play at the second. A huge deep bunker, more than 100 yards long, bordering the lake, faces the fairway & green and is really a nuisance. The approach shot is not that difficult as long as you can avoid this bunker. (No pictures)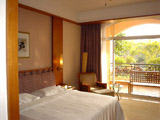 It takes 2 hours from Hong Kong by a club bus, and 40 minutes from Shenzhen and 1 hour from Guanzhou by car.

A veteran golf course designer, Jim Engh has done several excellent courses in USA including the Sanctuary GC in Colorado. He is not that famous in Asia because he has designed almost all his courses in the USA. The exception is Dragon Hill GC in Thailand which has good reputation.
The hotel is in the golf club and its rooms are quite comfortable. The hotel is equipped with a gymnasium, a swimming pool, a sauna, tennis & squash courts and etc. and is a good place for the leisure.