The front 9 extends along the seashore. The comfortable layout provides enjoyable experience. The back 9 stretches into the mountainside. The back 9 is tough and difficult to play, nevertheless, stimulates one's challenging spirit and offers rewarding experience. Beautiful coconut trees and countless bunkers are superbly positioned, making the entire course difficult as well as beautiful. You can fully enjoy the nature of the Lombok Island while you play here. The green layout is excellent, but the only fault was that the greens were slow and the grass conditions were not very good. The overall evaluation will be higher if the green quality matched the ones of its sister course – Bali Handara Kasaido CC. There are many animals, such as cows, horses and hens that roam free, in and out of the course. They of course maintain their natural habitat, and one can bump into an experience where you may find difficulty distinguishing your golf ball from an egg.
Very challenging as the fairway gets narrower closer to the green. To make matters even worse or more stimulating, impressive coconut trees bound both sides of the fairway. The second shot is a sharp uphill, with 5 or 6 deep bunkers surrounding the green. Pinpoint accuracy is required to keep your score low on this hole.
A slight right dogleg with a gentle uphill second shot. One must have a good control of the tee shot as the landing area is very tight. Should always provide a challenging experience, it was fun just imagining what type of tee shot to hit. On the second shot and thereafter, you need to be very careful as numerous pot bunkers await your errant shots.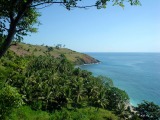 From Lombok airport, it takes about 45 minutes to get to the course. The hop between Bali and Lombok is mere 25 minutes. On your way back, I recommend to go back through the ocean way, as it offers beautiful scenery. It is definitely worth extra 20 minutes. You can play here on a day trip from Bali. Also, Lombok Island has a direct flight from Singapore 3 times a week. If you have spare time, I recommend the "Pool Villa Club" which is a 2 story villa in Shenggig Beach Hotel. It is a bit expensive as the rooms go for about US$ 350, but not that bad as rooms are big enough for 4 to 5 people with extra beds. Each room has direct access to the swimming pool, and there is an outdoor Jacuzzi. Room amenities are nice and you can enjoy the relaxing hotel life. At the Indonesian style French restaurant on sight, all the meals are reasonable and delicious. The Sheraton Hotel near by is also popular.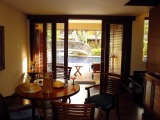 Peter Thomson and his team designed the sister course, Bali Handra Kosaido GC about 30 years before designing this course. Comparing both courses, I feel this course has a better layout. They designed it well, fully utilizing geographical advantages making it a challenging experience. Also, the club staffs are impressively simple and positive.
The course architects, Peter Thomson (Thomson, Wolveridge & Perret) designed other courses is Indonesia are Jagorawi G&CC, Fina G&CC, Gunung Geulis CC, Bali Handara Kosaido CC and Mountain View GC.