Phoenix Golf & Country Club, The Mountain & The Ocean Course
Course Data

| | |
| --- | --- |
| Location | Pattaya, Thailand |
| Yardage | 6812 yards Par 72 |
| Course Rating | |
| Playing Date | 25 Dec. 2003 |
| Desingner | Denis Griffiths |
| Opened | 1993 |
| Caddy | Yes |
| Golf Cart | Yes |

Rating

| | | |
| --- | --- | --- |
| Overall Rating | 3.50 | |

| | | |
| --- | --- | --- |
| Course Layout | 3 | |
| Difficulty Level | 3 | |
| Greens Conditions | 4 | |
| Fairways Conditions | 4 | |
| Landscaping & Views | 4 | |
There are three 9-hole sections, Mountain, Lake & Ocean. I played 18 holes on the Mountain & Ocean Course. It seems that Hole 8 on the Lake Course which I didn't play this time has a strategically placed lake and the hole is tough even for advanced players. The fairways tend to be narrow but the greens are spacious and beautifully framed with bamboo, eucalyptus and the welcome shade of bushes. You can enjoy a nice and easy round of golf because the whole course is relaxing.
A large and long bunker guards the front of the green. A pond on the left of the hole is just a visual hazard.
A par 5 reachable in 2 for long hitters. There is a pond 240 yards off the tee on the right side of the fairway and the fairway is extremely narrow from 240 yards to 300 yards off the tee. The hole is straight at first and then doglegs to the right 100 yards short of the green.
A dogleg to the left with bunkers on the left of the fairway which come into play.
A challenging par 4. A big tree on the left of the fairway makes the landing area off the tee narrow. The green is big and undulated undulating, so putting is fun.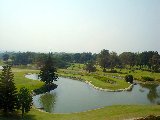 It takes 25 minutes from Pattaya by car. The view from the clubhouse is excellent.
The other Denis Griffiths designed courses in Thailand are Thai CC, Dynasty G&CC, Soi Dao Highland GC, and Changmai Green Valley CC.