Plutaluang Navy Golf Course, North & West Course
Course Data

| | |
| --- | --- |
| Location | Pattaya, Thailand |
| Yardage | 7063 yards Par 72 |
| Course Rating | 72.6 |
| Playing Date | 27 Dec. 2003 |
| Desingner | Royal Thai Navy |
| Opened | 1969 |
| Caddy | Yes |
| Golf Cart | Yes |

Rating

| | | |
| --- | --- | --- |
| Overall Rating | 3.05 | |

| | | |
| --- | --- | --- |
| Course Layout | 3 | |
| Difficulty Level | 4 | |
| Greens Conditions | 2 | |
| Fairways Conditions | 2 | |
| Landscaping & Views | 4 | |
The course is one of the oldest in Thailand. There are 2 courses; this North & West Course is more challenging than the South East Course. It makes use of the natural terrain with some ups & downs.
The tee shot is gently uphill while the second is gently downhill.
A slight dogleg to the right. A creek crosses the fairway at an angle from 80 to 150 yards off the green. You can enjoy the wonderful view of a big lake behind the green.
A signature par 3 with an island green. The green has a light house, which makes this hole unique.
A creek runs along the right side of the fairway and the creek crosses the fairway around 100 yards off the green. The second shot is gently uphill.
A dogleg to the right with water on the right. The second and third shots are slightly uphill.
A difficult par 4 because it is long with a narrow fairway.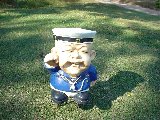 It takes 45 minutes from Pattaya by car.
The tees are dolls wearing navy uniforms.